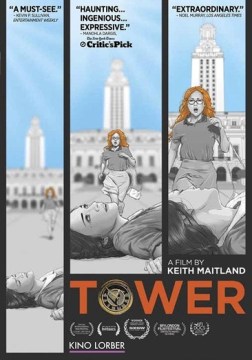 On August first, 1966, a sniper rode the elevator to the top floor of the iconic University of Texas Tower and opened fire, holding the campus hostage for 96 minutes in what was a previously unimaginable event. This documentary combines archival footage with animated re-enactments of the dramatic day, based entirely on first person testimonies from witnesses, heroes, and survivors, in a seamless and suspenseful retelling of the unfolding tragedy.
Searching for more content…
Publisher:
New York, NY : Kino Lorber, [2017]
ISBN:
9786316798152
6316798156

Branch Call Number:
DVD FEATURE TOWER
Characteristics:
1 videodisc (82 min.) : sound, color with black and white sequences ; 4 3/4 in 4 3/4 in.,stamping digital,optical,5.1 surround,2.0 stereo,Dolby digital widescreen (1.78:1) DVD video,NTSC video file,DVD video,region 1
Notes:
Based in part on the article "96 minutes" by Pamela Colloff originally published in Texas monthly in 2006
Widescreen
Originally produced as motion picture in 2016
Special features: After the screening : Q&A ; Behind the scenes : animation ; Character profiles ; Memorial dedication ; Trailer

---
Opinion
From the critics
---
Community Activity
Quotes
Add a Quote
The three quotes below are real conversations with the people at the scene and all near the end of the documentary:
Through the years, he remained largely kind of wooden in my mind. But the longer I've lived and the more I've seen, these precious little children who grow up and do sometimes horrible things, the more I have come to think of him as a very confused, very damaged young man. He died at about 25. There's a picture of him standing at three years old, holding a rifle on either side on the beach. I just think of him when he was that three-year-old who would have been sitting in my lap, you know. I'm a teacher, and I love that age. So much promise and so much hope. How can I hate somebody like that? I can't hate him, in spite of the incredible damage that he's done. I can't hate him. I just can't do that.
- Do you forgive him?
I forgive him, yes. How can I not forgive? I've been forgiven so much.
I remember looking at the Tower, of course, a lot. And from the Main Mall you can see there's a biblical line from the Bible. "Ye shall know the truth and the truth shall make you free." I've thought about it. One of the truths I learned... Is that there are monsters that walk among us. There are people out there that think unthinkable thoughts and then do unthinkable things.
The horror of these, the sick among us, must be found in the horror of our hyper-civilization. A strange pandering to violence, a disrespect for life, fostered in part by governments which, in pursuit of the doctrine of self-defense, teach their youth to kill and to maim. A society in which the most popular newspaper cartoon strips, television programs, and movies are those that can invent new means of perpetrating bodily harm. A people who somehow can remain silent while their own civilization seems to crumble under the force of the caveman's philosophy - that might makes right. It seems likely that Charles Joseph Whitman's crime was society's crime.
Summary
Add a Summary
Animation, testimony, and archival footage combine to relate the events of August 1, 1966 when a gunman opened fire from the University of Texas clock tower, killing 16 people. imdb.com
Notices
Add Notices
There are no notices for this title yet.